Kitchen and bathroom renovations are typically the two most popular options, with bathrooms coming out slightly ahead. Not only do bathroom renovations offer you a chance for an improved lifestyle and aesthetic, but they can also offer a return on your investment of 75% to 100%.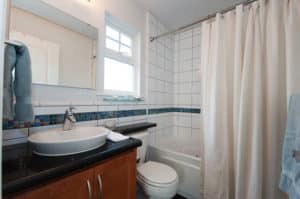 Bathroom renovation cost will vary significantly based upon the work you want done and the materials you choose, but the average cost surpasses $13,000 and can go quite high if you get carried away.  We are moving past the supply chain issues and high lumber prices that plagued the last few years, so in some places, some costs may have come down.  However, at the same time, we are seeing the highest inflation in decades.  In order to make the best decisions for your budget, it is therefore important to have a firm idea of what you are seeking and how much you are willing to spend, and decide what is important and what is not important to you and your family.  
At the high end of things, a complete remodel of your bathroom means completely redoing the bathroom, changing the layout to create an entirely new space. Almost anything you desire can be done, such as replacing a bathtub with a shower, or making changes to the plumbing to relocate the toilet or shower. This is essentially remaking the bathroom from scratch to turn it into whatever you envision.
This kind of renovation can easily run $15,000 and up.
Partial Bathroom Renovation
If you are looking to update the look of the bathroom without necessarily spending as much as you would on a 3- or 4-piece reno, you could always consider a partial renovation, which would involve updating a single element, or perhaps two. This can give you the feel of something new at a lesser cost and with less work.
For a partial bathroom renovation, you may decide to repaint the walls, or retile the floor. Replacing your fixtures may appear to be a small change but can also have an impact.
This type of renovation can often fall into the range of $5,000 but may be considerably more depending on which element(s) you change. Installing a steam shower, for example, may only cost $2,000 to $4,000 depending on included options, while a custom walk-in shower may start at $8,000 or more.
Bathroom Renovation Cost for a Standard 3- or 4-Piece Bathroom Reno
Many people will choose this popular option when renovating their bathroom, as it falls between the two extremes while allowing for a significant change or upgrade. This type of renovation will typically include the replacement of multiple aspects of the existing bathroom without requiring a change to the overall design or layout.
This is a good option when you want to significantly update your bathroom or switch up the style. It can include any or all the following:
Retiling the floor and/or shower walls.

Installing a new vanity

Changing/ upgrading shower fixtures

Changing the lighting

Painting the walls

Replacing the toilet

Installing a bidet

Changing the baseboards
This type of renovation will often fall between $10,000 and $15,000.
Putting an exact price on your bathroom renovation cost is difficult, given the number of variables and options. What is certain, however, is that there is tremendous value in the renovation, both for your daily life, and if you choose to sell your home in years to come.
Learn more about Shakespeare Homes Renovations in North Vancouver
We are a Certified & Award Winning Home renovation company!